Tekla Tedds 2023 From: Trimble Construction
2 min read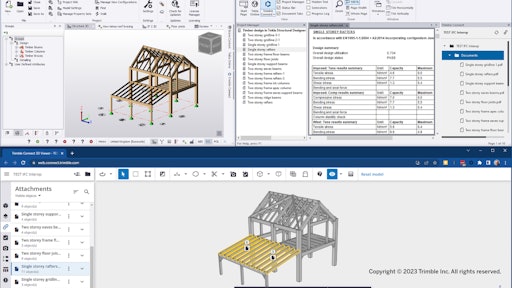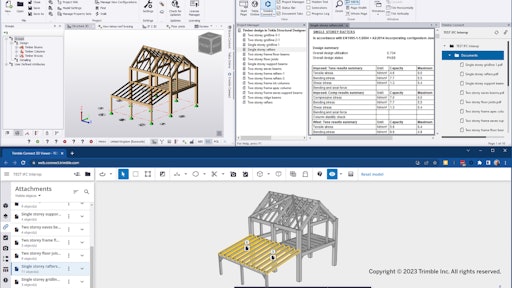 Enhancements to the timber/wood workflow enable a more efficient design process using Tekla Tedds, Tekla Structural Designer and Trimble Connect.
Trimble Construction | Trimble
Raising the bar for automated and connected workflows across project phases and stakeholders, Trimble's lates version of Tekla Tedds (Tekla Tedds 2023), include significant performance enhancements, enabling smoother information delivery on projects that are typically growing in both size and intricacy.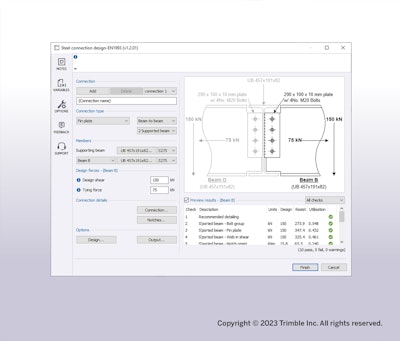 The structural design software Tekla Tedds now offers seamless integration of structural design information and documentation with Tekla Structures to improve collaborative design-to-detailing workflows. Particularly for steel connection design, the improved integration with Tekla Structures now enables linking Tedds calculations to Tekla Structures components. With this added functionality, Tekla software now provides a seamless workflow for end-to-end connection-checking between the engineer and steel detailers. In addition, the Tekla Tedds calculations help support multi-material design in Tekla Structural Designer with a specific focus on timber/wood design. The latest version also includes new and updated calculations for faster, more reliable structural element design.
The update included significant improvements in construction productivity, efficiency, and quality for Tekla Structures 2023, Tekla Structural Designer 2023, and Tekla PowerFab 2023.
The Tekla software provides a truly connected construction environment with an integrated suite of solutions, centralized data, streamlined workflows and comprehensive visibility throughout the course of a project. Connected construction enables precision production, reducing rework through constructible design. It forms the basis for green construction strategies to optimize the use of resources, minimize waste and enable full asset lifecycle maintenance.