Conference looks to help teachers connect
5 min read

Tanya Manus
Journal staff

This year's Technology in Education (TIE) Conference April 24 and 25 is putting increased emphasis on the need for human connection.
TIE is a division of Black Hills Special Services Cooperative in Rapid City. The organization primarily serves school districts and communities in western South Dakota. The TIE Conference is open to educators statewide, and the conference typically focuses on education technology and how to integrate technology, apps and online resources into classrooms.
While that remains the primary focus, the organization is getting feedback from educators who want more opportunities to talk to and share ideas with their colleagues, TIE said.
"What we're hearing is the need to be able to connect with each other. I think that's important as human beings…to talk about things that are important to you," said Dana Livermont, marketing and communications project director for Community, Family and Special Services, a division of Black Hills Special Services Cooperative.
"Despite working with a whole team of folks and many students each day, (teaching) can actually be quite isolating, especially if you teach in a specialty area, like computer sciences, or are a singleton in your building, like a counselor or principal," Livermont said.
Teachers spend their days in schools and in classrooms with 20 or 30 students and, while teachers tend to build camaraderie, there's often not enough time for teachers to talk to other adults about topics and issues they care about, Livermont said. Even professional development sessions held in schools tend to have agendas and common planning time but little opportunity for conversation.
"How often do teachers get time to come together and say, 'This is what is inspiring me. This is what I'm excited about learning about,'" Livermont said. "We're hoping to spark conversations about learning."
"The need to connect has always been there. With the isolation with COVID-19 and still coming out of that (it's been) a very hard time and an isolating time," she said. "There's a bigger need now to come together and it's been exacerbated by the pandemic. (It's important) to figure out a way to use technology so when we come together face to face, we can be more impactful. How can (teachers) use technology to make that time with students better and stronger?"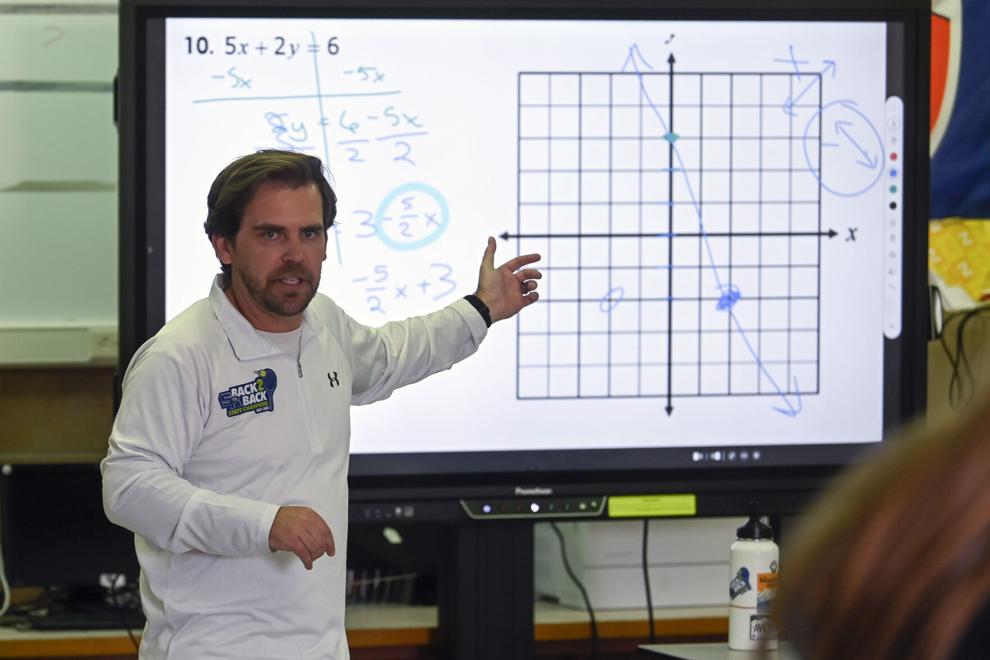 Educators can attend the TIE Conference in person or virtually so the conference is as inclusive as possible.
"We still have a teacher shortage in South Dakota and this will continue to be an issue we need to think about," Livermont said. "Just the ability to have a substitute (so a teacher can) take time off and participate in professional growth can be difficult. We want to make it as accessible for all educators as we can."
This year's TIE Conference strives to meet the professional development needs of educators by including sessions and networking time that provide more personal connections. A Community and Family Engagement session highlights kindergarten readiness, offering educators resources and strategies to help children and families in their communities prepare for their kids to start school. Families' experiences with their children transitioning to kindergarten has a lasting impact on their child's entire educational journey.
A session on Schoolwide Practices provides ideas anyone who works at a district or building level might be able to use to provide engaging and flexible professional development for their diverse staffs, Livermont said.
Because of the TIE Conference's focus on technology, it tends to attract those who are most passionate about integrating technology into their classrooms, but TIE is aiming to attract a broader mix of educators.
"We're thinking more broadly about how we can create an experience for everybody. It's going to be more than what people have traditionally thought about for the TIE Conference," Livermont said.
"Throughout the conference, we're going to pose conversation questions. Some are very surface level like 'Tell me about your pet.' Some will be deeper about what is coming up in education and what are the challenges?" she said.
Throughout the conference, educators will be encouraged to share their success stories, too.
"With challenges in the classroom of feeling isolated or burned out, we still have successes as well, and it's important to highlight those and share those with other people," Livermont said.
The technology-focused sessions of next week's TIE Conference will be devoted to innovative instructional practices, STEM and computer science, EdTech tools and resources, supportive learning and teaching environments, and special education.
One of the special education sessions is particularly unique. It will be a live session from Washington, D.C., with the Smithsonian American Art Museum. Participants will be immersed in the museum's resources for educators. Participants will interpret, apply and build social-emotional skills using virtual toolkits created by the museum with art therapists. Participants will explore how artworks can be catalysts for guided journaling, improving communication and emotional regulation.
The TIE Conference will open with keynote speaker Dr. Catlin Tucker, a best-selling author who writes about blended learning and using technology in student-led learning. The closing speaker will be Dr. David De Jong, dean of education at Dakota State University.
"He's a well-known leader in education in South Dakota. He's a very dynamic speaker, a very fun guy," Livermont said. "Why not highlight somebody who is an inspirational leader we can look to who's one of our own?"
"There's really something at the TIE Conference for everybody, whether you're a brand-new teacher or you've been teaching for 20 years, whether you're in a rural part of the state or at a bigger school system. There is something you can take away from TIE. It's a great place for all educators to come together and have those conversations," she said.
"Having the opportunity to come together, learn and network is so beneficial to educators and can really provide a morale boost during what is arguably the hardest part of the school year — the stretch between spring breaks and the end of the year," Livermont said. 
Go to tieconference.net to register and for a complete schedule.