8 Reasons to Improve Construction Jobsite Connectivity
4 min read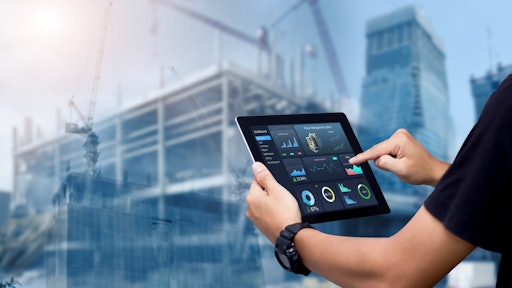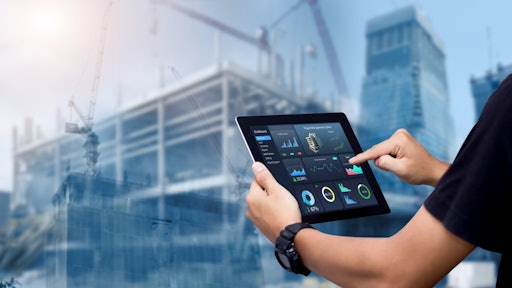 Jobsite connectivity helps track equipment usage and performance, enabling preventative maintenance and repair to reduce downtime and associated costs.
@panuwat – adobe.stock.com
Construction jobsite connectivity has become increasingly important over the past decade as the construction industry has undergone a digital transformation. While digital technology has been used in construction for many years, recent advancements in mobile devices, sensors, and software applications have made it possible to connect workers, equipment and stakeholders on the jobsite like never before.
The widespread adoption of smartphones and other mobile devices has made it easier for workers to access information and communicate with each other and their supervisors. Equipment sensors, telematics devices, and dashcam cameras monitor equipment usage, track materials, and collect data on worker productivity and safety. Cloud computing and the Internet of Things (IoT) have made it possible to store and share product data and documents more efficiently. More and more contractors are embracing digital technology to improve jobsite connectivity because of the many benefits, which include:
1. More efficient collaboration with construction teams and managers.
Workers communicate with other team members in real time, sharing plans, documents, and updates. Collaboration is crucial on a construction jobsite because many people work on the site, from architects and engineers to contractors and subcontractors. Each person brings expertise and knowledge to the project, and collaboration is necessary to ensure everyone is working toward the same goal. When everyone is on the same page, misunderstandings and errors are less likely to occur. With a connected jobsite, project managers can ensure that team members are working on the correct plan revision; if not, workers can be sent the appropriate plan sheet.
2. Better decision-making and problem-solving.
Many decisions must be made on a construction jobsite, such as what materials to use and when materials should arrive, budget allocations, and timelines. Decisions must be made quickly and accurately to ensure project success. As projects operate on tight schedules and budgets, workers and managers must be able to jointly solve problems and issues quickly and easily. Good decision-making can control costs, manage time, maintain quality, ensure safety, and satisfy stakeholders.
3.  Tracking projects in real-time.
Workers can monitor progress, identify potential issues, and adjust plans when everyone is connected. This leads to more accurate project timelines and budgeting. Every stakeholder involved in the project has the most up-to-date information so that everyone is aware of plan changes, material issues, labor shortages, and other issues. Project managers can identify potential cost overruns and take corrective action early to avoid costly rework and mistakes.
4. Increased productivity as workers can instantly access important information, plans, and resources without leaving the site, saving time and avoiding delays.
When workers are remote, they can be alerted to changes in the plan, reducing the need to return to the office for updates. Mobile tools empower workers to document their work hours, record safety observations, monitor meter readings, and send maintenance requests. These tools allow crew members to clock in and out and submit information about their work. This information is submitted to payroll so workers are paid more quickly and accurately. Paperwork is reduced as digitized forms and documents are online.
5. Ensuring safety as workers have instant access to safety protocols, training materials, and alerts that help reduce the risk of accidents and injuries.
A worker in a restricted or hazardous area can be alerted to use the proper safety equipment. Safety checklists can be digitized to ensure that all workers know and follow the required safety protocols. Equipment can be monitored for usage and performance to ensure it is in the proper working order or needs to return to the shop for maintenance. Safety management software gives users instant access to safety meetings, toolbox talks, safety inspection forms, and certifications. Instead of carrying around paper certifications or having to call into the office for verification, the crew leader can use the software to quickly investigate each skill and see the physical copy of the certification and the expiration date. Hence, managers know their crew is doing tasks they are certified in. If there's an incident out in the field or a potential danger to crews is identified, information can be broadcast to workers as soon as possible, so workers are aware of the issue and how to prevent it.
6. Improve equipment usage and maintenance.
Jobsite connectivity helps track equipment usage and performance, enabling preventative maintenance and repair to reduce downtime and associated costs. Equipment can be fitted with sensors to monitor mileage, time, run-time hours, and equipment odometers. Instead of using Excel spreadsheets and other paper documents, shop managers can establish and optimize preventative maintenance programs to ensure the equipment runs at peak performance and lasts longer.  
7. Cost savings through increased collaboration, productivity, and safety, leading projects to be completed more efficiently with fewer delays, errors, and accidents.
Materials and inventory can be tracked and monitored more efficiently, reducing the risk of overstocking or stockouts, leading to costly delays or waste. Jobsite connectivity leads to operational efficiencies and cost savings for improved project outcomes.
8. Creates a single source of truth, so contractors get paid faster.
When location-based documentation (notes, pictures, videos) from along a roadway is shared with project management, bills are more accurate, and users get paid the right amount, on time, with less effort. Questions regarding the accuracy of bills are significantly reduced when contractor billing teams can validate and reference project-specific documentation that includes date, time, and station/offset stamps—better documentation results in more bills being approved and paid faster.
Jobsite connectivity is essential for construction firms to ensure efficient project management, collaboration, and safety, ultimately leading to successful project completion within time and budget constraints.