$1M Investment Moves Flow Medical Toward Commercialization for Its Novel Medical Device
3 min read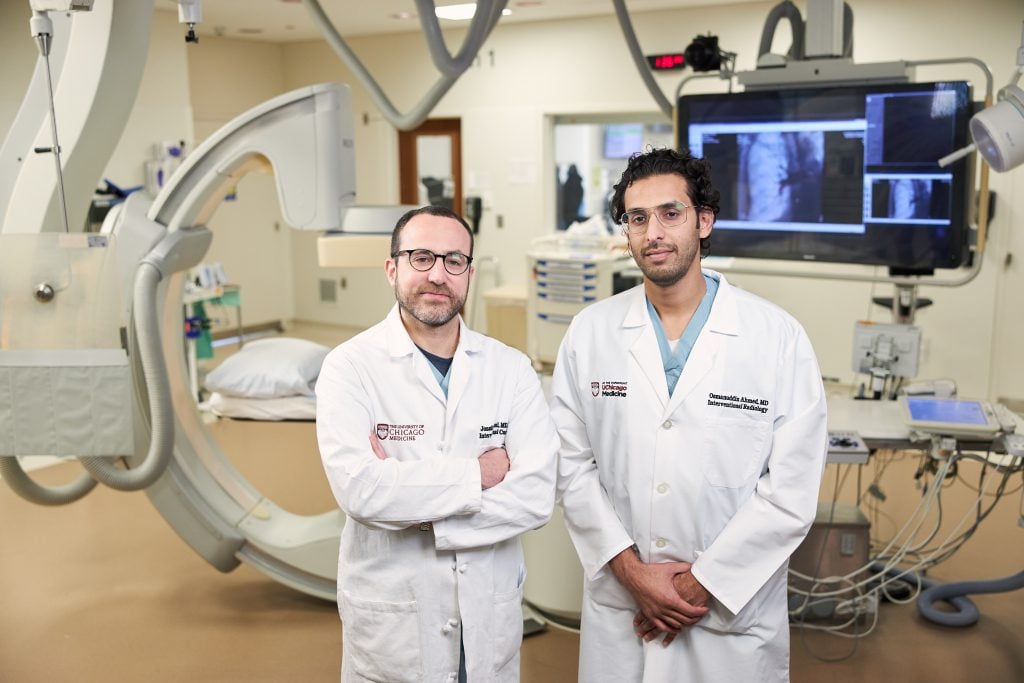 University of Chicago startup Flow Medical is finalizing its product design – taking the next steps on its path to commercialization with a $1 million investment from a medical device manufacturer.
The startup – which is developing a multi-function catheter to help diagnose and treat venous thromboembolic disease – is founded by University of Chicago researchers Jonathan Paul, associate professor of medicine, and Osmanuddin Ahmed, associate professor of radiology.
The investments will be used to fund the device development and testing needed to submit for FDA 510(k) approval in the first quarter of 2025, explained Kathleen McGing, MBA '23, chief business officer, who began working with Flow Medical as a Business Development Fellow through Polsky's Compass deep tech accelerator.
"We will finalize the device design and our manufacturing partners in the next few months," said McGing. "Once that's complete, we will focus on testing and small-scale production to prepare for FDA submission."
>> Read more: UChicago Doctors Wanted a Better Medical Device to Treat Pulmonary Embolism. Here Is How They Made Their Own
In addition to product development, Flow Medical is currently working to complete its Seed Round raise – and is seeking an additional $3 million in investments and grants to fund company development and additional commercialization activities.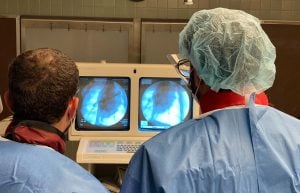 Initial prototyping was supported by a Small Business Innovation Research (SBIR) Phase I grant. This provided valuable learnings that de-risked the technology and optimized the engineering, said McGing.
"A year ago, we had the theory that if we could push device engineering to the edge of what's possible, then physicians, investors, and manufacturers would want to partner with us," she said. "Over the past year, it's been thrilling and motivating to have both our scientific and business development theories proven true."
Moving from prototype to commercial product has come with the challenge of ensuring that the device isn't just scientifically possible, McGing said, but that it can be developed at a cost and on a timeline that enables it to get into physician's hands. This is essential to achieving their goal of improving the safety and efficacy of catheter-directed thrombolysis (CDT) with data-driven interventions.
"Receiving the George Shultz Innovation Fund investment and SBIR Phase I grant were great sources of momentum because they not only provided the funds to prove technical feasibility, but also showed our team, investors, and partners that we are on a path to commercialization," she added.
Flow Medical in July 2022 was awarded a $200,000 co-investment from the George Shultz Innovation Fund to further develop its technology. It also participated in the Polsky I-Corps program, which enables UChicago scientists, researchers, and students to test the commercial potential of their research and ideas, and was selected for Cohort 4 of the Compass deep tech accelerator.
"Another exciting evolution in the past year has been stepping outside of the University of Chicago's ecosystem and becoming a part of Chicago's amazing and growing biotech community," said McGing. "Connecting other startups and successful entrepreneurs has made us a better company through the invaluable advice we've received."